---
KJ and Tré: Twin Transformation
2 minute read
---
Parenting twins can be challenging enough, but when they're toddlers with autism who are also nonverbal, the challenge is even greater.
Like many twins, KJ and Tré communicated with each other without talking. No one else – including their dad, big sister and me – could understand them.
They were about to turn four, and they still weren't saying any words.
As a result, we had times of frustrations. They couldn't communicate and tell us if something was wrong. We'd try to guess what they were trying to say and, if we were wrong, they'd get more frustrated. Honestly, we were having more times of struggle than good days. My husband, Kellen, has more patience than I do, but even he was getting frustrated. Although I'm an emergency room nurse, before this, I knew nothing about autism. It's hard when you don't know what to do. You feel helpless.
This was totally foreign to us. Our daughter was always ahead of schedule. She talked and potty trained as a two-year-old. She's in accelerated classes in school, and very high-ability. We have a friend whose son has autism, but he's very low-functioning, so I kept comparing my boys to him, and it didn't seem like the same thing.
Friends and family who meant well said things like, "Put them in First Steps and it will get better." Well, it didn't. Then it was, "Put them in preschool, and it will get better." That didn't do it either.
So, when we tried Damar, I was on edge about it. My expectations were low because I'd been let down before. I remember a staff member saying, "I think they'll thrive in this environment." I wasn't so sure.
But it didn't take long before we started noticing changes. A few words here and there. Fewer tantrums. Now the boys are five years old, and, while we still have bad days, we have fewer of them and we're equipped to handle them. The boys attend Damar's ABA Fall Creek clinic five days a week, all day.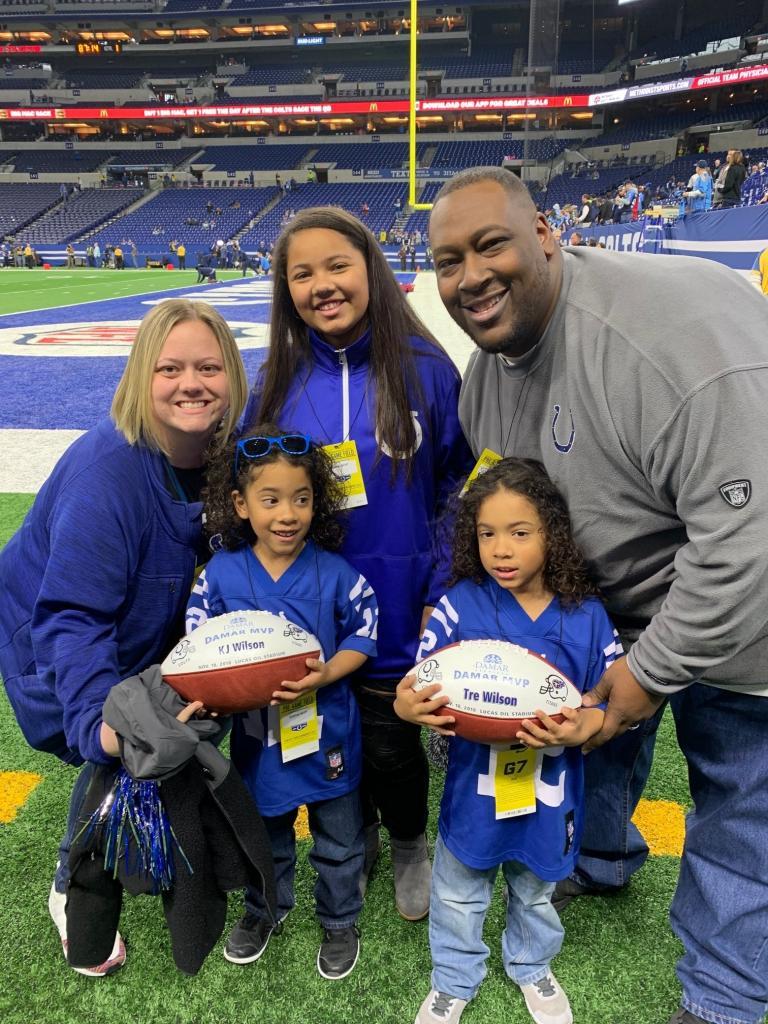 They're now potty trained. No more diapers or Pull-ups! It only took a little over a week for both of them, but it involved us working very closely with staff to reinforce at home the same things they were doing at the clinic. I'm not sure I ever thought this would happen.
Another thing I didn't think would happen was taking the boys to a Colts game – much less going onto the field before the game, where there are a lot of restrictions for what you can and cannot do.
But there we were on Nov. 18 because they boys were named Damar MVPs. The whole family went on the field beforehand, and once we got to our seats, I looked at Kellen and said, "I never thought we'd be able to do anything like this." It was an incredible opportunity.