---
We Can Do That!
2 minute read
---
Of all the things we teach kids at Damar Charter Academy, the most important lesson is that we believe they can do things most people would say they can't.
For example, most people would think our students couldn't run a coffee shop … or create furniture … or make and sell Valentine's Day gifts. But they're doing all three of those things through our program that lets students develop technical skills along with general-employment skills.
The program got its start last year, when a couple of teachers dreamed of a school coffee shop created and run by students. In short order, the students helped plan a menu and build the coffee bar from reclaimed wood, and one student even designed the logo. Today, the coffee shop is open five days a week from 9 to 11 a.m., and students work as cashiers, baristas and cleaners.
Soon, those teachers decided our students could build furniture. So they reclaimed some pallets and taught the students how to use tools and how to assemble the wood into tables, and paint and finish them. Now you can find some of those tables in homes and offices around the city.
When we saw the pride that working brought to the students, we knew we had to do more, and that we had to find a way to let even more DCA students get real work experiences. We knew this was a chance to show employers that these young men and women are employable, eager and willing to work hard.
So we expanded the program, named it Dragon Works (in honor of our school mascot, a dragon), and used it to ensure that students learned technical skills as well as the "soft" skills that employers want – customer service, an understanding of how workplaces operate, and so on.
And now we're using a sort of "marquee" project to introduce the students and their abilities to the world beyond Damar: the Dragon Works' special Valentine's Day gifts.
In the woodshop where students learn to measure, paint and use tools, these days they're producing handmade wooden hearts that come personalized with your special someone's initial hand-painted onto it. Once completed, the hearts are packaged with gourmet popcorn that another group of students learned to make in our school kitchen, and they're being sold by students who are using the opportunity to sharpen their communication and customer service skills.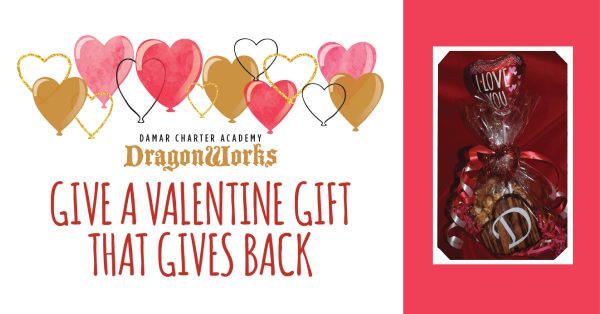 We're proud of the skills our students are learning with Dragon Works, but we're even prouder of the way our team has taught these students a bigger lesson: that they can do so much more than their disabilities might suggest.
Would you like to be a part of this effort? Give your loved ones what we're calling SweetHeartLetters – a keepsake wooden heart wonderfully packaged with gourmet caramel corn and a space to write a little love note to your sweetheart. Email your order to [email protected] by Feb 2. Local deliveries will be made on Feb. 12 and 13, and all proceeds from the sales of SweetHeartLetters will go back into Dragon Works to use for future projects.